Pirate Parties worldwide support Catalan Pirates against censorship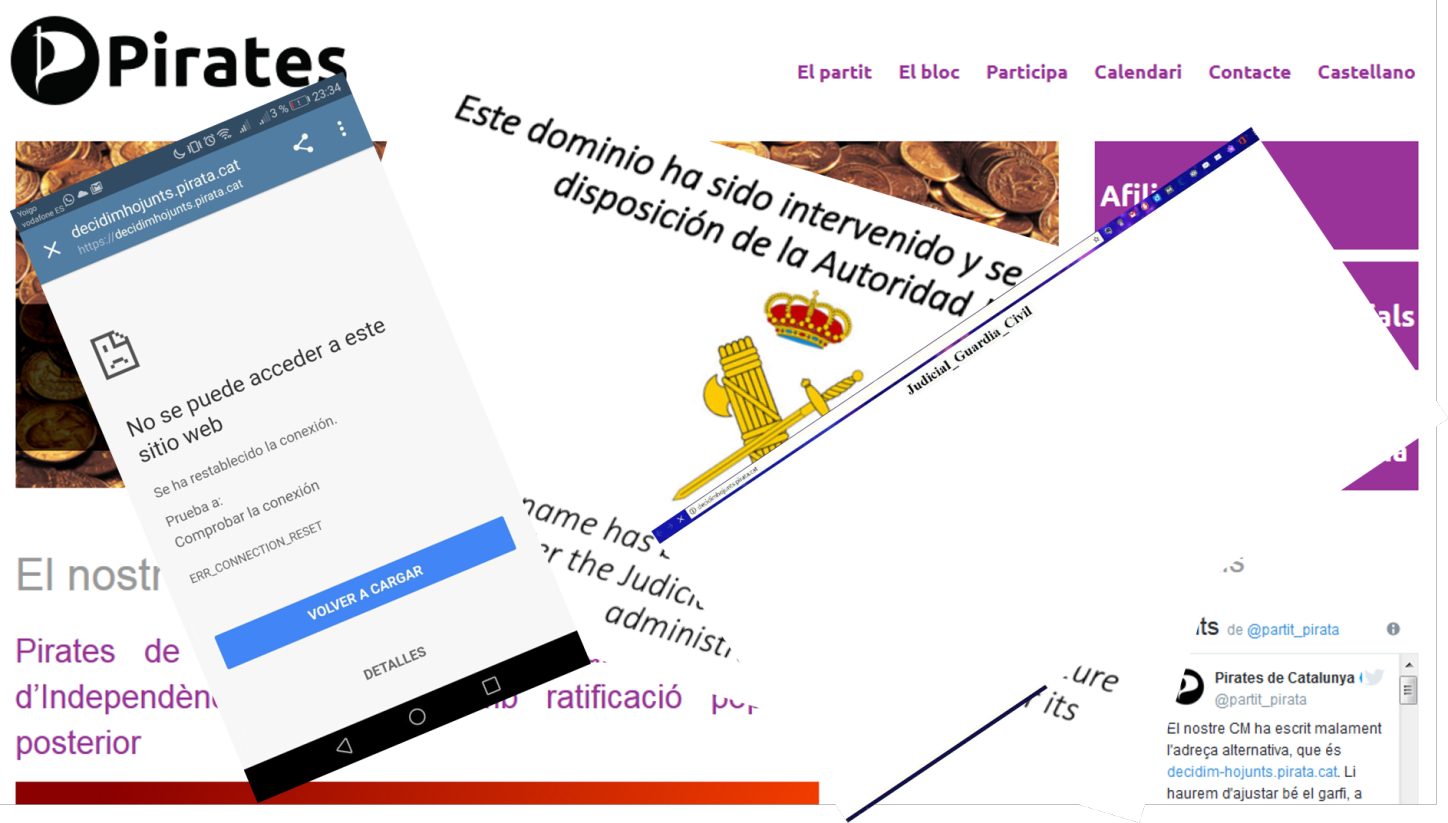 Common press release of Pirate Parties worldwide
Català Español Français Svenska Český Deutsch Nederlands English Türkçe العربية русский язык
We, the Pirate Parties and NGOs of the Pirate movement around the world, express our solidarity with the Catalan Pirates whose websites about the Referendum of Self Determination campaign and the use of Tor are currently being censored by the Spanish authorities. Additionally, we express our solidarity with all citizens of Catalonia who have been met with violent state repression for exercising their democratic right to vote in the independence referendum.
We denounce all political censorship. The internet censorship by Spanish authorities is an unacceptable violation of human rights and political freedoms, regardless of the legality of the Catalan referendum and the merits of the secessionist cause.
We call upon the European Parliament, the Parliamentary Assembly of the Council of Europe, and all democratic governmental bodies worldwide to intervene in support of democracy and freedom of speech in Catalonia. Human rights violations, such as this clearly blatant disregard of free speech, are never internal affairs of any country but the business of all humanity.
Signed by
Pirate Parties International (PPI), Geneva https://www.pp-international.net
Pirate Party Switzerland – https://piratenpartei.ch – https://partipirate.ch
Pirate Party Canada – https://pirateparty.ca/
Pirate without Borders – https://pirates-without-borders.org/
Pirate Party of the Netherlands – https://piratenpartij.nl/
Pirate Party of Catalonia – http://pirata.cat/
Austrian Pirate Party – https://www.piratenpartei.at/
Pirate Party Australia – https://pirateparty.org.au/
Pirate Party of Tyrol – http://piraten.tirol-web.at/
The Czech Pirate Party – http://pirati.cz/
Pirates of Venezuela – https://partidopiratave.wordpress.com/
Pirate Party Belgium – http://pirateparty.be/
Pirate Lobby – http://piratelobby.eu/
Pirate Party of Norway – https://www.piratpartiet.no/
Pirate Party Germany – https://www.piratenpartei.de/
Partido Interdimensional Pirata (Argentina) – https://partidopirata.com.ar/
Partido Pirata (Chile) – https://www.partidopirata.cl/
Pirate Party of Sweden – http://piratpartiet.se/
Confederacion Pirata (Spain & Catalonia) – http://confederacionpirata.org/
Mary Read – Feminist Pirates (Spain & Catalonia) http://maryread.net/
Movimiento Pirata (Spain & Catalonia)
Parti Pirate français – https://www.partipirate.fr/
Pirate Party of Israel – https://www.piratim.org/
Partido Pirata (Brasil) https://partidopirata.org/
Internet Party of New Zealand https://internet.org.nz/
Pirate Party Slovenia https://piratskastranka.si/
Pirate Party Turkey https://korsanparti.com/
Pirate Party of Russia – https://pirate-party.ru/
Català Español Français Svenska Český Deutsch Nederlands English Türkçe العربية русский язык
Partits Pirata d'arreu del món donen suport a Pirates de Catalunya davant la censura
Nosaltres, els Partits Pirata i les ONG del Moviment Pirata de tot el món, expressem la nostra solidaritat amb els pirates catalans, les pàgines webs dels quals, pàgines de campanya sobre el Referèndum d'Autodeterminació de Catalunya i sobre l'ús de Tor, estan sent censurades per les autoritats espanyoles. Així mateix, expressem la nostra solidaritat amb tots els ciutadans de Catalunya que s'han trobat amb la repressió violenta de l'estat per exercir el seu dret democràtic a votar en el referèndum d'independència.
Denunciem tota censura política. La censura a Internet duta a terme per les autoritats espanyoles és una violació inacceptable dels drets humans i les llibertats polítiques, sigui quina sigui la legalitat del referèndum català o els mèrits de la causa secessionista.
Fem una crida al Parlament Europeu, el Consell d'Europa i tots els cossos governamentals democràtics del món a mostrar el seu suport a la democràcia i a la llibertat d'expressió a Catalunya. Les violacions dels drets humans, com aquest menyspreu flagrant a la llibertat d'espressió, mai són assumptes interns de cap país, sinó un tema d'interès de tota la humanitat.
Català Español Français Svenska Český Deutsch Nederlands English Türkçe العربية русский язык
Los partidos pirata del mundo dan apoyo a Pirates de Catalunya ante la censura
Nosotros, los Partidos Pirata y ONGs del Movimiento Pirata de todo el mundo, expresamos nuestra solidaridad con los piratas catalanes, cuyas páginas web de campaña acerca del Referéndum de Autodeterminación de Cataluña y sobre el uso de Tor están siendo censuradas por las autoridades españolas. Así mismo, expresamos nuestra solidaridad con todos los ciudadanos de Cataluña que se han encontrado con la represión violenta del estado por ejercer su derecho democrático a votar en el referéndum de independencia.
Denunciamos toda censura política. La censura en Internet llevada a cabo por las autoridades españolas es una violación inaceptable de los derechos humanos y las libertades políticas, sea cual fuere la legalidad del referendum catalán o los méritos de la causa secesionista.
Hacemos un llamamiento al Parlamento Europeo, el Consejo de Europa y todos los cuerpos gubernamentales democráticos del mundo a mostrar su apoyo a la democracia y a la libertad de expresión en Cataluña. Las violaciones de los derechos humanos, como este menosprecio clarísimo a la libertad de expresión, nunca son asuntos internos de ningún país, sino un tema de interés de toda la humanidad.
Català Español Français Svenska Český Deutsch Nederlands English Türkçe العربية русский язык
Les Partis Pirates du monde entier soutiennent les Pirates catalans face à la censure
Nous, les Partis Pirates et ONGs du mouvement Pirate à travers le monde, exprimons notre solidarité envers les Pirates catalans, dont les sites web sur la campagne pour le Référendum d'Autodétermination et sur l'utilisation de Tor sont en ce moment censurés par les autorités espagnoles. En outre, nous exprimons notre solidarité envers tous les citoyens de Catalogne qui ont été confrontés à la répression violente de l'État pour avoir exercé leur droit de vote démocratique lors du référendum pour l'indépendance.
Nous dénonçons toute censure politique. La censure d'Internet par les autorités espagnoles constitue une violation inacceptable des droits humains et des libertés politiques, indépendamment de la légalité du référendum catalan et des mérites de la cause sécessioniste.
Nous demandons au Parlement Européen, à l'Assemblée Parlementaire du Conseil de l'Europe, et à toutes les instances gouvernementales démocratiques à travers le monde d'intervenir en faveur de la démocratie et de la liberté d'expression en Catalogne. Les violations des droits humains, tel que ce mépris flagrant de la liberté d'expression, ne constituent jamais une affaire interne à un pays, mais concernent toute l'humanité.
Català Español Français Svenska Český Deutsch Nederlands English Türkçe العربية русский язык
Piratpartier över hela världen stöder katalanska pirater mot censur
Vi, Piratpartierna och de icke-statliga organisationerna i Piratrörelsen runt om i världen, uttrycker vår solidaritet med de katalanska piraterna, vars kampanjwebbplatser rörande folkomröstningen gällande självbestämmande samt användningen av Tor för närvarande censureras av de spanska myndigheterna. Dessutom uttrycker vi vår solidaritet med alla medborgare i Katalonien som har blivit mötta med våldsamt statligt förtryck när de utövat sin demokratiska rösträtt i folkomröstningen om oberoende.
Vi fördömer all politisk censur. Den Internetcensur som sker av spanska myndigheter är en oacceptabel kränkning av de mänskliga rättigheterna och de politiska friheterna, oavsett lagenligheten av den katalanska folkomröstningen och de secessionistiska grunderna.
Vi uppmanar Europaparlamentet, Europarådets parlamentariska församling och alla demokratiska regeringsorgan över hela världen att ingripa till stöd för demokrati och yttrandefrihet i Katalonien. Mänskliga brott, som det här blatanta åsidosättandet av yttrandefriheten, är aldrig en inre angelägenhet i något land utan hela mänsklighetens angelägenhet.
Català Español Français Svenska Český Deutsch Nederlands English Türkçe العربية русский язык
Pirátské strany celosvětově podporují katalánské Piráty v boji proti cenzuře
My, Pirátské strany a Pirátské NNO na celém světě, vyjadřujeme solidaritu s katalánskými Piráty, jejichž webové stránky o kampani k referendu za sebeurčení a použití služeb Tor jsou v současné době cenzurovány španělskými autoritami. Dále vyjadřujeme naši solidaritu se všemi občany Katalánska, kteří se setkali s násilnou státní represí kvůli tomu, že chtěli vyjádřit své demokratické právo hlasovat v referendu o nezávislosti.
Jsme proti jakékoli politické cenzuře. Cenzura Internatu španělskými orgány je nepřijatelné porušení lidských práv a politických svobod, a to bez ohledu na zákonnost katalánského referenda a přínosy separatismu.
Vyzýváme Evropský parlament, Parlamentní shromáždění Rady Evropy a všechny demokratické vlády na celém světě, aby zásahly v podpoře demokracie a svobody projevu v Katalánsku. Porušování lidských práv, jako je toto zcela zjevné ignorování svobody projevu, nikdy nejsou interní záležitostí dané země, nýbrž otázkou celého lidstva.
Català Español Français Svenska Český Deutsch Nederlands English Türkçe العربية русский язык
Piratenparteien weltweit unterstützen die katalanischen Piraten gegen Internetzensur
Die internationalen Piratenparteien sowie die NGOs der Piratenbewegung weltweit, solidarisieren sich mit den katalanischen Piraten, deren Website über das katalanische Referendum gesperrt wurde. Der freie Zugang zur Webseite des Anonymisierungs-Netzwerks TOR wurde ebenfalls von der spanischen Regierung blockiert.
Wir verurteilen jede Art von Zensur. Diese politisch motivierte Zensur der spanischen Regierung ist eine nicht tolerierbare Verletzung der Menschenrechte und aller politischen Freiheiten, ungeachtet der Rechtmäßigkeit des katalanischen Referendums oder der Erkenntnisse, die das Referendum erbrachte.
Wir rufen das europäische Parlament, die parlamentarische Versammlung des Europarates und alle anderen demokratischen Institutionen weltweit dazu auf, tätig zu werden und die Stimme Kataloniens im Namen der Demokratie zu hören. Menschenrechtsverletzungen, wie die klare Beschneidung der freien Meinungsäußerung, sind niemals nur Landesinterna, sondern immer Angelegenheit aller Menschen.
Català Español Français Svenska Český Deutsch Nederlands English Türkçe العربية русский язык
Piratenpartijen wereldwijd steunen Catalaanse Piraten tegen censuur
Wij, de Piratenpartijen en NGO's van de wereldwijde Piratenbeweging, drukken onze solidariteit uit voor de Catalaanse Piraten wiens websites over de zelfbeschikkingsreferendumcampagne en het gebruik van Tor-netwerken op dit moment gecensureerd worden door de Spaanse autoriteiten. Bovendien willen we onze solidariteit betuigen met alle Catalaanse burgers die geconfronteerd werden met gewelddadige repressie vanuit de staat enkel om hun democratisch stemrecht uit te oefenen in dit onafhankelijk referendum.
Wij keuren elke politieke censuur af. De internetcensuur door de Spaanse autoriteiten is een onaanvaardbare schending van mensenrechten en politieke vrijheden, zonder het te hebben over het al dan niet wettelijk zijn van het Catalaanse referendum of het al dan niet verdienstelijk zijn van de wil tot afscheiden.
We doen een oproep aan het Europees parlement, de Europese Raad en alle democratische regeringsinstanties wereldwijd om tussen te komen ter ondersteuning van de democratie en de vrijheid van meningsuiting in Catalonië. Mensenrechtenschendingen, zoals deze duidelijke minachting voor vrije meningsuiting, zijn nooit louter een interne zaak van een bepaald land, maar zijn belangrijk voor de hele mensheid.
Català Español Français Svenska Český Deutsch Nederlands English Türkçe العربية русский язык
Dünya genelinde Korsan Partiler sansüre karşı Katalan Korsanları'nı destekliyor
Biz, Korsan Hareketi'nin dünya çapındaki Korsan Parti'leri ve sivil toplum kuruluşları olarak, Özerklik Referandumu websitesine erişimi İspanyol hükümeti tarafından engellenen ve Tor kullanımı yasaklanan Katalan Korsanlarıyla dayanışmamızı dile getiriyoruz. İlaveten bağımsızlık referandumunda oy vermek haklarını kullandıkları için devlet baskısı ve şiddetine maruz kalan tüm Katalonya vatandaşlarıyla dayanıştığımızı ifade ederiz.
Her türlü politik sansürü kınıyoruz. İspanyol hükümeti tarafından Katalan referandumunun meşruiyeti ve ayrılma yanlısı olanların haklı davaları gözetilmeksizin uygulanan İnternet sansürü insan haklarına ve siyasal özgürlüğe karşı yapılmış kabul edilemez bir şiddettir.
Avrupa Parlementosu'nu, Avrupa Konseyi Parlementerler Meclisi'ni ve dünya çapındaki tüm demokratik hükümetleri Katalonya'da demokrasi ve ifade özgürlüğünü desteklemeye çağırıyoruz. İnsan hakları ihlalleri, ifade özgürlüğünün bu denli yok sayılması herhangi bir ülkenin iç işleri değil, tüm insanlığın meselesidir.
Català Español Français Svenska Český Deutsch Nederlands English Türkçe العربية
احزاب القراصنة حول العالم يدعمون قراصنة كاتالونيا ضد الحجب
نحن, احزاب القراصنة و الجمعيات الغير حكومية لحركة القراصنة حول العالم نعبر عن تضامننا مع قراصنة كاتالونيا الذين تم حجب مواقعهم حول استفتاء حملة تقرير المصير و استعمال برنامج تور. كما نعبر عن تضامننا مع كل مواطني كاتالونيا الذين قوبلو بقمع من قبل الدولة عند محاولتهم ممارسة حقهم الديمقراطي في التصويت في استفتاء الاستقلال.
نحن نندد بكل انواع الحجب السياسي. سياسة حجب الانترنيت التي استعملتها الحكومة الاسبانية تعد خرقا غير مقبول لحقوق الانسان و الحريات السياسية, بغض النضر عن قانونية استفتاء كاتالونيا و مسألة الانفصال.
ندعو البرلمان الاروبي, الجمعية البرلمانية لمجلس اوروبا, و كل الحكومات الديمقراطية في جميع انحاء العالم للتدخل تضامنا مع الديمقراطية و حرية التعبير في كاتالونيا.
مسائل خرق حقوق الانسان, مثل هذا التجاهل الصارخ لحرية التعبير, ليسو ابدا مشاكل داخلية بل مسئلة تخص الانسانية جميعا.
Català Español Français Svenska Český Deutsch Nederlands English Türkçe العربية русский язык
Пиратские Партии всего мира поддерживают Каталонских Пиратов в борьбе против цензуры
Мы, Пиратские партии и НКО Пиратского Движения всего мира, выражаем свою солидарность с Каталонскими Пиратами, чьи интернет-сайты, посвящённые кампании в пользу референдума о самоопределении, и узлы Тор, подвергаются в настоящее время цензуре со стороны властей Испании. Кроме того, мы выражаем свою солидарность со всеми гражданами Каталонии, которые столкнулись с мощными государственными репрессиями из-за выражения своего демократического права проголосовать на референдуме по вопросу независимости. Мы осуждаем все виды политической цензуры. Цензура в интернете властями Испании является неприемлемым нарушением прав человека и политических свобод, вне зависимости от законности каталонского референдума и весомости доводов в пользу сепаратизма.
Мы призываем Европейский Парламент, Парламентскую Ассамблею Совета Европы и все демократические государственные органы всего мира выступить в поддержку демократии и свободы слова в Каталонии. Нарушения прав человека, подобные этим, это вопиющие пренебрежительное отношение к свободе слова, не являются внутренним делом какой-либо страны, это касается всего человечества.
Català Español Français Svenska Český Deutsch Nederlands English Türkçe العربية русский язык