Pirates at the UN, Making Internet a Human Right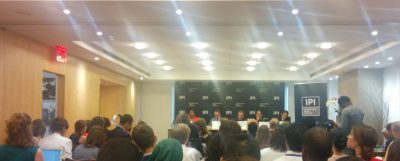 On July 16 and 17, Pirate Parties International (PPI) participated in events of the UN Economic and Social Council (ECOSOC) to promote the need for free universal internet access. The ideology behind this goal is to promote freedom of information and communication around the world, so no one is left behind. The High-level Political Forum, United Nations central platform for follow-up and review of the 2030 Agenda for Sustainable Development and the Sustainable Development Goals, provides for the full and effective participation of PPI as a consultative ECOSOC member.
During the discussions the voice of the Pirate Parties International was heard, and there was a general agreement that freedom of information and free internet are basic needs for every individual. During one of the discussions our representatives had the opportunity to discuss our agenda in more depth with Dr. Adam Lupel, the Vice President and COO of the International Peace Institute. He acknowledged that the freedom of information and internet access to everyone is important and can help alleviate situations where the line of communication is essential. Refugees, disaster relief, and vulnerable areas around the world need to have access to information which is directly related to food, water, energy, and health. Open lines of communication will reduce crises globally. It should be considered a humanitarian assistance tool essential for everyone.
We will continue advocating this mission and other platform issues at the United Nations.